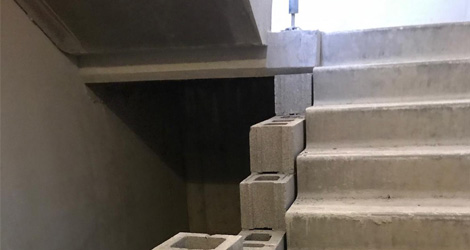 The experience acquired over several years of activity makes the professionals of our company able to cope with every type of need by the individual customer.
With the help of the most avant-garde techniques available in the construction, electrical and plumbing sector, we  take care of every corner of the home, completing with punctuality and efficiency the works of:
Block Masonry works
Block Foundation
Interior Masonry Cl­adding and Partitions
Building Renovations and Retrofitting
New Building Envelo­pe Systems​ Stairs
We offer complete services respecting the technical specifications defined together with the customer. The services include overall renovation, repairing and building of your property.
Fine materials for high-quality services
To carry out high-quality construction work, we use only refined and resistant materials to protect you in all weather conditions, able to satisfy the tastes of customers more demanding.
Request a quote now. We will come to your place for a free inspection to create superior quality products that fit perfectly into your home location and to fulfill your dreams.
Modernize your property with elegance
If you feel the need to modernize your property or you need to renovate your old-looking property, rely on the years of experience of our company.
Trust our advice. We will suggest customized solutions and, upon request, we can also create new designs according to your requirements. Then, we will offer construction services, renovation services etc.
Block foundation and partition walls of R.H.H
It is generally observed that most block foundation issues start with a minor leakage of water or a small crack on the basement walls or floors.
Subsequently, the situation gets worse during the monsoon weather. This happens because of low-quality and unplanned block foundation procedures followed during the construction of your house. This used to be a significant hindrance for a person while trying to fix and maintain the household drainage system. But, this doesn't have to be the same anymore, as we are here to ensure that our experienced professionals are here to address all your block foundation issues. Further, these professionals are experts in designing customized solutions at affordable prices.
The benefits of our partition walls
More number of rooms for various activities like indoor games, gymnasiums, home theatres, etc.
More privacy for your loved ones.
Economical and lighter in weight.
Covers lesser areas.
Doesn't involve complex procedures for construction.
The materials used by us for partition walls are durable and can support heavy fixtures and sanitary fittings.
Availability of customized designs.
Highly robust and resistant to excessive heat, dampness, fungus, fire, etc.
Call Us To Get A Free Service Estimate!